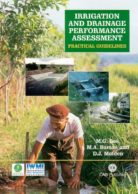 Irrigation and Drainage Performance Assessment
Practical Guidelines
By: Marinus Bos, International Institute for Land Reclamation and Improvement, Wageningen, The Netherlands, Martin Burton, Independent Management Consultant, UK, David Molden, International Water Management Institute, Colombo, Sri Lanka
April 2005 | Hardback | 176 Pages | 9780851999678
April 2005 | ePDF 9781845930202 |
£84.45 | €107.65 | $158.35
Description
Effective irrigation and drainage systems are essential if growing demands for water resources are to be met. For the use of water for irrigation to be improved we must understand current levels of performance. This book draws together the growing body of knowledge on irrigation and drainage performance assessment that has been gained over the last twenty years. It provides guidelines for practitioners to enable them to design and carry out performance assessment and implement performance-based management. Developed by a working group of the International Commission on Irrigation and Drainage (ICID) it provides a generic framework for performance assessment with guidance on the theory and practice of how to audit and assess the performance of irrigation and drainage schemes.
Table of contents
1: Introduction
2: Framework for performance assessment
3: Performance indicators for irrigation and drainage
4: Operational strategic performance assessment
5: Diagnosing irrigation performance
6: Data management for performance assessment
Reviews
"This concise book represents a comprehensive source of recent information on the assessment of irrigation and drainage performance, a subject of immense importance as the world's water supplies for new irrigation schemes become increasingly scarce and existing shcmes are threatened by managerial difficulties and degradation processes". Brennan D Soane, Experimental Agriculture, 42, 2006
Like most websites we use cookies. This is to ensure that we give you the best experience possible. Continuing to use
CABI.org
means you agree to our use of cookies. If you would like to, you can learn more about the cookies we use
here
.
Privacy Overview
This website uses cookies to improve your experience while you navigate through the website. Out of these, the cookies that are categorized as necessary are stored on your browser as they are essential for the working of basic functionalities of the website. We also use third-party cookies that help us analyze and understand how you use this website. These cookies will be stored in your browser only with your consent. You also have the option to opt-out of these cookies. But opting out of some of these cookies may affect your browsing experience.