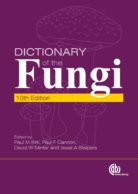 Dictionary of the Fungi
10th Edition
Edited by: Paul Kirk, CABI, UK, Paul Cannon, CABI, UK, D Minter, CABI, UK, J Stalpers, CBS, The Netherlands
September 2008 | Hardback | 784 Pages | 9780851998268
September 2011 | Paperback | 784 Pages | 9781845939335
February 2010 | ePDF 9781845937287 |
£110.20 | €143.15 | $210.05
Description
This new edition, with more than 21,000 entries, provides the most complete listing available of generic names of fungi, their families and orders, their attributes and descriptive terms. For each genus, the authority, the date of publication, status, systematic position, number of accepted species, distribution, and key references are given. Diagnoses of families and details of orders and higher categories are included for all groups of fungi. In addition, there are biographic notes, information on well-known metabolites and mycotoxins, and concise accounts of almost all pure and applied aspects of the subject (including citations of important literature).
Table of contents
1: Dictionary of the Fungi
2: Dictionary of the chromistan fungal analogues
3: Dictionary of the protozoan fungal analogues
Reviews
Praise for previous editions: "None of us can afford not to have a copy of this book at arm's length. Students deserve a copy in their laboratories. In summary: order it now.", Richard P Korf, Plant Pathology Herbarium, Cornell University, US "The Dictionary of the Fungi is surely one of the most indispensable of all mycological publications - every student of the fungi should own, or have access to, a copy of the most recent edition.", Bryce Kendrick, Mycologist, Feb 2003
Like most websites we use cookies. This is to ensure that we give you the best experience possible. Continuing to use
CABI.org
means you agree to our use of cookies. If you would like to, you can learn more about the cookies we use
here
.
Privacy Overview
This website uses cookies to improve your experience while you navigate through the website. Out of these, the cookies that are categorized as necessary are stored on your browser as they are essential for the working of basic functionalities of the website. We also use third-party cookies that help us analyze and understand how you use this website. These cookies will be stored in your browser only with your consent. You also have the option to opt-out of these cookies. But opting out of some of these cookies may affect your browsing experience.