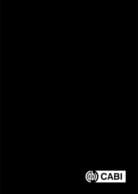 Insect Movement
Mechanisms and Consequences
Edited by: Ian Woiwod, IACR-Rothamsted, UK, Chris Thomas, University of Leeds, UK, Don Reynolds, Natural Resources Institute, University of Greenwich, UK and Rothamsted Research, Harpenden, UK
May 2001 | ePDF 9780851997810
May 2001 | Hardback | 464 Pages | 9780851994567
Series : Royal Entomological Society
£132.85 | €176.10 | $253.40
Description
Knowledge of insect movement, particularly of flight, is crucial to our understanding of the great ecological and evolutionary success of insects. The last 20 years have seen many advances in this subject area. New fields have arisen, such as metapopulation theory, and dramatic developments have taken place in methods of studying movement, as a result of new techniques in molecular biology and radar monitoring. There have also been advances in our knowledge of flight-related physiology and behaviour. This book, which is based on the main papers presented at the Royal Entomological Society's 20th Symposium held in September 1999, brings us up to date with these developments.It contains chapters on:flight mechanismsforaging movementsmigrationthe evolution of movement strategiesthe interactions between dispersal rates, population structure and gene flow the effects of climate change on geographical distributionIt is essential reading for entomologists, and of interest to those researching animal behaviour, physiology, ecology and genetics.
Table of contents
1: Contributors
2: Preface
3: Introduction and overview, I. Woiwood, C D Thomas and D Reynolds
4: The biomechanics and functional diversity of flight, R Dudley
5: How insect wings evolved, R Wootton
6: Physiology and endocrine control of flight, G Goldsworthy and M Joyce
7: Insect behaviours associated with resource finding, J Hardie, G Gibson and T Wyatt
8: Host location by parasitoids, W Powell and G Poppy
9: Flight trajectories of foraging insects: observations using harmonic radar, J R Riley and J L Osborne
10: The evolution of migratory syndromes in insects, H Dingle
11: Migration patterns and orientation mechanisms within the flight boundary layer, R B Srygley and E G Oliveira
12: Characterising the spatial and temporal components of insect migration in inland Australia with novel and traditional methods, V A Drake, P C Gregg et al.
13: Significance of habitat persistence and dimensionality in the evolution of insect dispersal strategies, R F Denno, C Grattan and G A Langellotto
14: Predation and the evolution of dispersal, W W Weisser
15: Evolution of mass transit systems in ants - a tale of two societies, N R Franks
16: Dispersal and conservation in heterogeneous landscapes, N F Britton, G P Boswell and N R Franks
17: Scale, dispersal and population structure, C D Thomas
18: Gene flow, J Mallet
19: Use of genetic diversity in movement studies of flying insects, H D Loxdale and G Lushai
20: Coping with modern times? Insect movement and climate change, C Parmesan
21: Analysing and modelling range changes in UK butterflies, J K Hill, C D Thomas, R Fox, D Moss and B Huntley
22: Index
Reviews
Have you read this book, or used it for one of your courses? We would love to hear your feedback. Email our reviews team to submit a review.
Like most websites we use cookies. This is to ensure that we give you the best experience possible. Continuing to use
CABI.org
means you agree to our use of cookies. If you would like to, you can learn more about the cookies we use
here
.
Privacy Overview
This website uses cookies to improve your experience while you navigate through the website. Out of these, the cookies that are categorized as necessary are stored on your browser as they are essential for the working of basic functionalities of the website. We also use third-party cookies that help us analyze and understand how you use this website. These cookies will be stored in your browser only with your consent. You also have the option to opt-out of these cookies. But opting out of some of these cookies may affect your browsing experience.