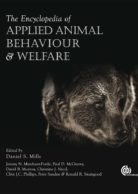 Encyclopedia of Applied Animal Behaviour and Welfare
Edited by: Daniel Mills, University of Lincoln, UK, Jeremy Marchant-Forde, USDA-ARS, USA, Paul McGreevy, University of Sydney, Australia, David Morton, University of Birmingham, UK, Christine Nicol, Royal Veterinary College, UK, Clive Phillips, Curtin University Sustainable Policy (CUSP) Institute, Australia, Peter Sandøe, University of Copenhagen, Ronald Swaisgood, San Diego Zoo's Institute for Conservation Research, USA
March 2010 | Hardback | 704 Pages | 9780851997247
March 2010 | ePDF 9781845937331 |
£231.20 | €305.65 | $441.30
Description
Welfare research has established a range of scientific indicators of stress, welfare and suffering in animals that can be applied to all aspects of improving their welfare through good housing and management, and the topic continues to grow in importance among both professionals and the public.

The practical focus of this authoritative, comprehensive encyclopedia aims to promote the understanding and improvement of animals' behaviour without compromising welfare. Under the editorial direction of Professor Daniel Mills, the UK's first specialist in veterinary behavioural medicine, over 180 international experts have contributed a wealth of fully cross-referenced entries from concise definitions to detailed short essays on biological, practical, clinical and ethical aspects of behaviour and welfare in domestic, exotic, companion and zoo animals.
Table of contents
1: Abandoned Animals
2: Breeding
3: Central Nervous System
4: Confinement
5: Dominance
6: Environment
7: Feeding
8: Grazing Behaviour
9: Hierarchy
10: Immune Systems
11: Laying Hen Housing
12: Maternal Behaviour
13: Nursing
14: Operant Tests
15: Parental Behaviour
16: Rearing Environment
17: Sexual Behaviour
18: Slaughter
19: Transport
20: Ultrasound
21: Vision
22: Wildlife Management
23: Zoo
Readership
Essential for all animal welfare academics and professionals this authoritative and comprehensive encyclopedia brings a practical focus to promote the understanding and improvement of animals' behaviour without compromising welfare
Reviews
An excellent resource for any and all people who are interested in expanding their knowledge in the fields of Applied Ethology or Animal Welfare... a primary point of reference and definition. "Edited by some of the finest academics worldwide… extremely well written." Veterinary Record, Vol. 170 (2), 2012 Applied Animal Behaviour Science
Professor Mills is an RCVS, European and ASAB recognised specialist in clinical animal behaviour, and was the first professor of the discipline in Europe. While his clinical and scientific work has historically focused on the disruptive effect of companion animal behaviour on owners and society (problem behaviour and its management) through his work as a clinical animal behaviourist, he has more recently pursued an interest in assistance dogs and animal assisted interventions through diverse collaborations. His research in this area has included the first longitudinal study of its kind (3 year follow up) examining the effect of the pet dog on families with an autistic child, the effect of reading to dogs in schools and the impact of dogs in the workplace (currently under review). Professor Mills is a well-known international speaker on companion animal behaviour/welfare and the role of animals in society , with around 100 peer-reviewed full scientific research publications, over 40 books and chapters, and over a hundred ISBN indexed conference abstracts. He heads up a large interdisciplinary group at Lincoln with 11 Post Graduate Research students and 3 Post Doctoral Researchers.
studied agriculture at undergraduate level and obtained a PhD in dairy cattle nutrition and behaviour from the University of Glasgow in 1983. He then lectured in farm animal production and medicine at the Universities of Wales and Cambridge, conducting research into cattle and sheep welfare. In 2003 he became the inaugural holder of Australia's Chair in Animal Welfare, at the University of Queensland, and established the Centre for Animal Welfare and Ethics. He was involved in the development and implementation of State and Federal government welfare policies and has published over 150 articles on animal welfare and management in scientific journals and 8 books, as well as editing a book series for Springer on the welfare of animals.
Prof. Phillips was the first professor in animal welfare in Australia, taking up the position at the University of Queensland in 2003. There he established a Centre for Animal Welfare and Ethics in 2005 and devoted his time to developing animal welfare and ethics research and teaching. Prior to emigrating to Australia he lectured at the Universities of Cambridge (1995-2003) and Wales (1984-1995) in the United Kingdom.
His research is concerned with many different animals: livestock during ship transport, dogs and cats in shelters, racehorses and zoo animals and also with our ethical responsibilities towards animals. He is particularly interested in understanding and improving animal welfare in Asia and conducts regular workshops and research projects in China and nearby countries.
In 2010 he established the on-line journal Animals, which focuses on the welfare and ethics of animals and is now the top ranking journal in the field. He also edits a book series on Animal Welfare and Nutrition, published by Springer. In 2009 his book The Welfare of Animals: The Silent Majority was shortlisted for an Australian Museum Eureka prize. He has written and edited fourteen other books, mostly on livestock welfare, behaviour and production, and published over 300 articles in scientific journals. In 2012 he received the Australian Museum Eureka Award for Scientific Research that contributes to Animal Protection.
He currently chairs the Queensland Government's Animal Welfare Advisory Board and previously chaired the UK's Agriculture Ministry Bovine Tuberculosis husbandry review panel. He was the Independent Member of the UK's Milk Development Council and Member of the UK Government's Select Committee to review the zinc-cadmium sulphide dispersion tests conducted by the Ministry of Defence during the Cold War.
Like most websites we use cookies. This is to ensure that we give you the best experience possible. Continuing to use
CABI.org
means you agree to our use of cookies. If you would like to, you can learn more about the cookies we use
here
.
Privacy Overview
This website uses cookies to improve your experience while you navigate through the website. Out of these, the cookies that are categorized as necessary are stored on your browser as they are essential for the working of basic functionalities of the website. We also use third-party cookies that help us analyze and understand how you use this website. These cookies will be stored in your browser only with your consent. You also have the option to opt-out of these cookies. But opting out of some of these cookies may affect your browsing experience.