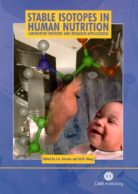 Stable Isotopes in Human Nutrition
Laboratory Methods and Research Applications
By: Steven Abrams, USDA/ARS Children's Nutrition Research CenterTexas, USA, William Wong, USDA/ARS Children's Nutrition Research Center, Texas, USA
April 2003 | Hardback | 192 Pages | 9780851996769
April 2003 | ePDF 9780851997964 |
£90.20 | €118.25 | $169.95
Description
The use of stable isotopes in nutritional studies is now widespread, and the technique is becoming increasingly popular. Practical applications are numerous and include:calcium and iron absorption studiesstudies looking at the impacts of diet, physical activity, aging, and medical therapy and supplementation on nutrient metabolismthe measurement of energy cost of pregnancystudies on the causes of growth faltering in infantsinvestigations into childhood and adult obesity.This book is designed as a laboratory handbook of methods used to perform stable isotope studies in humans. It covers basic principles, dosage information, sample preparation procedures, analytical instrumentation, and necessary mathematical methods and provides the fundamentals to enable researchers to evaluate and establish stable isotope methods in their own laboratories.
Table of contents
1: Introduction, S A Abrams and W W Wong
2: The measurement of protein kinetics with stable isotope tracers, F Jahoor, Baylor College of Medicine, USDA/ARS Children's Nutrition Research Center, Houston, Texas,USA
3: Stable isotope studies of macromineral metabolism: Calcium, magnesium and iron, S A Abrams
4: Evaluation of trace mineral status and bioavailability using stable isotopes (zinc, copper, selenium, molybdenum), N M Lowe, University of Central Lancashire, Preston, UK and C S Broome, University of Liverpool, UK
5: Energy utilization with doubly labelled water (2H218O), W W Wong
6: Body composition measurements with 2H218O isotope dilution, W W Wong
7: Stable isotopes and gas chromatoraphy - Mass spectrometry in studies of glucose and metabolism in children, A L Sunehag, and M W Haymond, Baylor College of Medicine, USDA/ARS Children's Nutrition Research Center, Houston, Texas, USA
8: Cholesterol and other lipid metabolism, R E Ostlund, Washington University School of Medicine, St Louis, Missouri, USA
9: Index
Reviews
"This book will serve as a resource for anyone interested in an overview of the applications of stable isotopes in clinical human nutrition...This collection is unique in that it not only provides a sufficient overview of the pertinent background and methodology, but many chapters also put these methods into context by relating them to clinical examples that demonstrate the utility of these techniques for particular nutrients covered." Kimberly O'Brien, Quarterly Review of Biology, 79(3), 2004 "This book succeeds in combining a useful introduction to isotope techniques for graduate students of nutrition with a fundamental reference work that should be on the shelves of any nutritional laboratory practising stable isotope techniques." L Bluck, Journal of Human Nutrition and Diet, 17, 2004
Like most websites we use cookies. This is to ensure that we give you the best experience possible. Continuing to use
CABI.org
means you agree to our use of cookies. If you would like to, you can learn more about the cookies we use
here
.
Privacy Overview
This website uses cookies to improve your experience while you navigate through the website. Out of these, the cookies that are categorized as necessary are stored on your browser as they are essential for the working of basic functionalities of the website. We also use third-party cookies that help us analyze and understand how you use this website. These cookies will be stored in your browser only with your consent. You also have the option to opt-out of these cookies. But opting out of some of these cookies may affect your browsing experience.