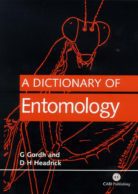 Dictionary of Entomology
By: Gordon Gordh, APHIS, Raleigh, USDA, David Headrick, California Polytechnic State University, USA
March 2003 | Paperback | 1056 Pages | 9780851996554
$127.20 | £65.90 | €88.05
Description
This book is a comprehensive, fully cross-referenced collection of over 28,000 terms, names and phrases used in entomology, incorporating an estimated 43,000 definitions. It is the only listing which covers insect anatomy, behaviour, biology, ecology, histology, molecular biology, morphology, pest management, taxonomy and systematics. The origin, etymology, part of speech and definition of each term and phrase are all provided, including the language, meaning or root of each term and constituent parts. Where meanings have changed, or terms have been borrowed from other disciplines, the most current usage is indicated. The common names of insects, their scientific binomen and taxonomic classification are provided, with diagnoses of pest species in many cases. All insect order, suborder, superfamily, family and subfamily names are given, together with the diagnostic features of orders and families. Names of deceased entomologists, or scientists from other fields who have contributed to entomology are included, with the citation for their biography or obituary. This book is an essential reference source for all professionals and students of entomology and related disciplines. Note:The only dictionary of its kind available, covering all aspects of insect biology and taxonomy. Also includes the names of prominent entomologists.
Table of contents
1: Foreword
2: Dictionary of Entomology
3: Appendix 1: Journal Titles
4: Appendix 2: Common Names References
Reviews
"Everyone who is interested in the science should have access to a copy". Peter G Allsopp, Australian Journal of Entomology "A Dictionary of Entomology is the most complete reference of its kind available today... This is an extraordinary work of the highest scholarship, and this reviewer cannot find any reasonable fault with it". Abelardo C Moncayo, American Entomologist "Every Serious entomologist should have a copy of this dictionary, and physicians and veterinarians dealing with insect-transmitted infections need to have a copy to hand". M W Service, Annals of Tropical Medicine and Parasitology "...the dictionary is very up-to-date and will be extremely useful to both students and researchers, particularly those in fields that only partially overlap with entomology". www.earthlife.net "The dictionary would be an excellent addition to many a researcher's own bookshelf and some of our institutional libraries". V B Meyer-Rochow, Entomologica Fennica, April 2002 "A major work and an absolutely essential addition to any comprehensive entomological library, whatever its speciality". International Pest Control, August 2002 "As a general resource text, I feel this dictionary will become invaluable to many entomologists, professional or other-wise, and help their work or study of this fascinating but sometimes complex subject". Biological Agriculture and Horticulture, October 2002 "I recommend that this book should be on the shelves of all entomologists, biologists, pest management specialists and all college and university libraries." Virendra Gupta, Oriental Insects 38(84), 2004 "There is no doubt that this immense work is the most complete reference of its kind available today, or probably ever." G R Seamons, Reference Reviews, 18(2), 2004 "This encyclopaedic lexicon presents a most extensive synopsis of entomological and related terms, it provides a serviceable reference source essential for all students and professionals interested in some branch of the science of entomology." Jindrich Jira, Acta Societas Zoologicae Bohemicae, 67(14), 2004
Editor Bio
received his PhD in Entomology in 1992 at the University of California, Riverside studying the taxonomy and evolution of reproductive behaviours of native California fruit flies in the family Tephritidae. During a four year post-doctoral position he worked on the taxonomy, behaviour and biology of hymenopterous parasitoids used in biological control programmes for agricultural crops. In 1997 he began a full time tenure-track faculty position at California Polytechnic State University, San Luis Obispo, in the Horticulture and Crop Science Department where he is responsible for teaching agricultural entomology, biological control and general entomology. He has 81 career publications and has received several teaching awards including the Friendship Award from the Shandong Provence of the People's Republic of China in 1999, the California Polytechnic State University Distinguished Teaching Award in 2005, and the Distinguished Educator Award from the American Association of State Colleges of Agriculture and Renewable Resources.
Like most websites we use cookies. This is to ensure that we give you the best experience possible. Continuing to use www.cabi.org means you agree to our use of cookies. If you would like to, you can learn more about the cookies we use here.