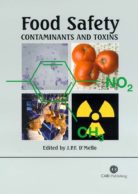 Food Safety
Contaminants and Toxins
Edited by: J P F D'Mello, formerly Scottish Agricultural College, UK
April 2003 | Hardback | 480 Pages | 9780851996073
$253.40 | £132.85 | €176.10
Description
Food safety is a concern for scientists, policy-makers and consumers especially as food poisoning outbreaks are becoming more common and as particular concerns arise over genetically modified foods. This book covers recent developments in the chemistry, biochemistry and physiological effects of toxicants that might have an impact on human health and welfare.
Table of contents
PART I: BIOTOXINS
Chapter 1: Plant Toxins and Human Health, P S Spencer and F Berman, Oregon Health and Science University, USA
Chapter 2: Bacterial Pathogens and Toxins in Foodborne Disease, E A Johnson, University of Wisconsin, USA
Chapter 3: Shellfish Toxins, A Gago Martinez, University of Vigo, Spain and J F Lawrence, Health Canada, Ontario, Canada
Chapter 4: Mycotoxins in Cereal Grains, Nuts and Other Plant Products, J P F D'Mello
PART II: ANTHROPOGENIC CONTAMINANTS
Chapter 5: Pesticides: Toxicology and Residues in Food and Wine, P Cabras, Universita di Cagliari, Italy
Chapter 6: Polychlorinated Biphenyls, D L Arnold and M Feeley, Health Canada, Ottawa, Canada
Chapter 7: Dioxins in Milk, Meat, Eggs and Fish, H Fiedler, UNEP, Geneva, Switzerland
Chapter 8: Polycyclic Aromatic Hydrocarbons in Vegetable Oils, Seafood and Meat, M D Guillen and P Sopelana, Universiad del Pais Vasco, Vitoria, Spain
Chapter 9: Heavy Metals, L Jorhem, National Food Administration,Uppsala, Sweden
Chapter 10: Dietary Nitrates, Nitrites and N-nitroso Compounds and Cancer Risk with Special Emphasis on the Epidemiological Evidence, M Eichholzer and F Gutzwiller, University of Zurich, Switzerland
Chapter 11: Adverse Reactions to Food Additives, R A Simon, Division of Allergy, Asthma and Immunology, Scripps Clinic, California, USA and H Ishiwata, National Institute of Health Sciences, Tokyo, Japan
Chapter 12: Migration of Compounds from Food Contact Materials and Articles, J H Petersen, Danish Veterinary and Food Administration, Soborg, Denmark
Chapter 13: Veterinary Products: Residues and Resistant Pathogens, J C Paige and L Tollefson, Division of Epidemiology, MD, USA
PART III: CASE STUDIES
Chapter 14: Prion Diseases: Meat Safety and Human Health Implications, N Hunter, Institute for Animal Health, Edinburgh, UK
Chapter 15: The Safety Evaluation of Genetically Modified Foods, M J Gasson, Institute of Food Research, Norwich, UK
Chapter 16: Genetically Modified Foods: Potential Human Health Effects, A Pusztai, S Bardocz, Aberdeen and S W B Ewen, University of Aberdeen, Scotland
Chapter 17: Radionuclides in Food: The Post-Chernobyl Evidence, J T Smith and N A Beresford, Centre for Ecology and Hydrology, Dorchester, UK
Chapter 18: Radionuclides in Foods: American Perspectives, E J Baratta, Winchester Engineering and Analytical Centre, MA, USA
PART IV: CONCLUSIONS
Chapter 19: Widespread and Continuing Concerns over Food Safety, J P F D'Mello
Reviews
"The book is a boon to toxicologists, food scientists and academics in the field of food safety."
K Gayathri, The Indian Journal of Nutrition and Dietetics 42, 2005
Editor Bio
J.P.F. D'Mello is a double graduate of the University of Nottingham, obtaining a BSc Honours in 1964 and a PhD in 1967, both in the Department of Applied Biochemistry. He began work at the Edinburgh School of Agriculture in 1968, lecturing to students and commencing research with grants from the Agricultural Research Council, Tropical Products Institute (ODA), BP and ICI. He has supervised a number of Honours, MSc and PhD students during his years at Edinburgh, published extensively in refereed journals, and took charge of the Environmental Protection and Management degree course for four years until retirement. Since retiring, he has edited 5 books for CABI, with A Handbook of Environmental Toxicology: Human Disorders and Ecotoxicology published in December 2019 and the authored text Introduction to Environmental Toxicology publishing in late 2020.
Like most websites we use cookies. This is to ensure that we give you the best experience possible. Continuing to use www.cabi.org means you agree to our use of cookies. If you would like to, you can learn more about the cookies we use here.