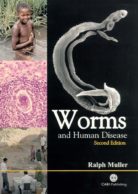 Worms and Human Disease
2nd Edition
By: Ralph Muller, The London School of Hygiene and Tropical Medicine, UK
December 2001 | Paperback | 320 Pages | 9780851995168
December 2001 | ePDF 9781845933203 |
Description
This second edition of the popular advanced student textbook (previously published as Worms and Disease: A Manual of Medical Helminthology) has been thoroughly updated and revised since it was first published in 1975. It includes contributions and a chapter by Prof. Derek Wakelin, University of Nottingham, UK. An authoritative handbook covering all human helminth infections with particular emphasis on diagnosis, treatment, clinical manifestations, pathogenesis, epidemiology and control. Practical guidelines are given for estimating the clinical and public significance of helminthiases, vital in areas where the majority of inhabitants are infected with many helminths but only a few are sick.
Table of contents
1: The Trematodes
2: The Cestodes
3: The Acanthocephalans
4: The Nematodes
5: Oher Groups
6: Immunology of Helminths
7: Epidemiological Aspects of Helminth Infections
8: Helminthological Techniques
Reviews
"Worms and Human Disease has been a reference work for parasitologists (and others) for more than 25 years, and this revised edition, which maintains the original layout, is most welcome. Dr Muller is to be commended for updating his original book so thoroughly. I predict that the second edition will now serve, as did its predecessor, as a valued work of reference for many years to come."G Barnish, Annals of Tropical Medicine & Parasitology, Vol 96, 2002 "...for a speciality course or for the student who wants an introduction to helminth infections, this is an outstanding handbook."Peter Hotez, Infectious Diseases, Sept 2002 "...attractive, easy to read...practical approach to the subject"Dickson Despommier, Parasitology, 2002 "I was suprised at how much I learnt and how much new information the book contained. I can recommend the book highly to students of human helminth diseases as well as to public health workers and physicians working in the tropics who deal with the diagnosis, treatment, or control (or all)of these infections...this text will be a valuable resource. I am very pleased to have it in my library." J.R. Seed, University of North Carolina, USA
Like most websites we use cookies. This is to ensure that we give you the best experience possible. Continuing to use
CABI.org
means you agree to our use of cookies. If you would like to, you can learn more about the cookies we use
here
.
Privacy Overview
This website uses cookies to improve your experience while you navigate through the website. Out of these, the cookies that are categorized as necessary are stored on your browser as they are essential for the working of basic functionalities of the website. We also use third-party cookies that help us analyze and understand how you use this website. These cookies will be stored in your browser only with your consent. You also have the option to opt-out of these cookies. But opting out of some of these cookies may affect your browsing experience.