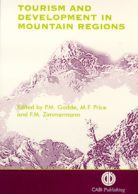 Tourism and Development in Mountain Regions
Edited by: Pamela Godde, The Mountain Institute, La Jolla, California, USA, Martin Price, University of the Highlands and Islands, Perth College, Australia, F Zimmermann, Department of Geography, University of Graz, Austria
January 2000 | Hardback | 352 Pages | 9780851993911
January 2000 | ePDF 9780851999159 |
£107.65 | €136.10 | $203.25
Description
This book discusses the importance of mountain regions, and the precariousness of mountain tourism in the context of ecosystem and cultural conservation. It includes case studies of mountain tourism existing alongside environmental sustainability and community well being. The text presents an integrated approach to mountain-based tourism, balancing the needs of local communities, tourists and environmental conservation.
Table of contents
1: Tourism and Development in Mountain Regions: Moving Forward into the New Millennium, PM Godde, M Price and F Zimmermann
2: Environmental Management for Alpine Tourism and Resorts in Australia, RC Buckley, CM Pickering and J Warnken, Griffith University, Queensland, Australia
3: Recreation Resource Assessment and Monitoring Techniques for Mountain Regions, C Monz, National Outdoor Leadership School, Lander, USA
4: Conservation and Development in Greek Mountain Areas, G Valaoras, Athens, Greece
5: Tourism in Bioregional Context: Approaching Ecosystemic Practice in the Sumava, Czech Republic, LAG Moss, J Tesitel, F Zemek, M Bartos, D Kusova and M Herman, Laurence Moss & Associates, New Mexico, USA
6: Mountain Culture as a Tourism Resource: Aboriginal Views of the Privileges of Storytelling, RE Pfister, University of Northern British Columbia, Canada
7: The Economic Impacts of Different Types of Tourism in Upland and Mountain Areas of Europe, P Snowdon, B Slee and H Farr, University of Aberdeen, Aberdeen, UK
8: The Economic Impacts of Ecotourism: Conflicts and Solutions in Highland Mexico, D Barkin, Universidad Autónoma Metropolitana, Mexico City
9: Mountain Tourism and Public Policy in Nepal, LR MacLellan, PUC Dieke, and B Kumari Thapa,University of Strathclyde, Glasgow, UK
10: The Role of the Community in Relation to the Tourism Industry: A Case Study from Mount Bromo, East Java, Indonesia, J Cochrane, University of Hull, UK
11: Community-Based Tourism for Conservation and Women's Development, W Brewer Lama, The Mountain Institute, Kathmandu, Nepal
12: Too Much Too Fast: Lessons from Nepal's Lost Kingdom of Mustang, CP Gurung, Resources Nepal, Kathamandu, Nepal and MA DeCoursey, Woodacre, USA
13: Mongolia's Tourism Development Race: Case Study from the Gobi Gurvansaikhan National Park, A Saffery, South Gobi National Protected Areas' Administration, Dlanzadgad, Omnogov Aimag, Mongolia
14: Amenity Migration in the Sumava Bioregion, Czech Republic: Implications for Ecological Integrity, RS Glorioso
15: Amenity Migration and Tourism in the Eastern Highlands Bioregion of Zimbabwe: Policy Planning and Management Considerations, D Tonderayi, Calgary, Alberta, Canada
16: Strategy for Future Mountain Tourism, LAG Moss and PM Godde
Reviews
Have you read this book, or used it for one of your courses? We would love to hear your feedback. Email our reviews team to submit a review.
Like most websites we use cookies. This is to ensure that we give you the best experience possible. Continuing to use
CABI.org
means you agree to our use of cookies. If you would like to, you can learn more about the cookies we use
here
.
Privacy Overview
This website uses cookies to improve your experience while you navigate through the website. Out of these, the cookies that are categorized as necessary are stored on your browser as they are essential for the working of basic functionalities of the website. We also use third-party cookies that help us analyze and understand how you use this website. These cookies will be stored in your browser only with your consent. You also have the option to opt-out of these cookies. But opting out of some of these cookies may affect your browsing experience.