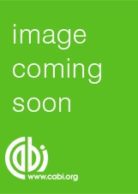 Insecticide Resistance
From Mechanisms to Management
Edited by: Ian Denholm, University of Hertfordshire, UK
March 1999 | Hardback | 144 Pages | 9780851993676
$210.05 | £110.20 | €137.95
Description
This book addresses these topical issues and is based on a Discussion Meeting held at the Royal Society, London, in April 1998. Contributors include scientists from leading research groups in Europe, North America, Asia and Australia. The papers have also been published as an issue of the journal Philosophical Transactions: Biological Sciences, published by the Royal Society. Topics covered include molecular genetics, mechanisms, ecological genetics and management. There is also discussion of the genetically delivered toxicant derived from the insect pathogen Bacillus thuringiensis. The book is essential reading for agricultural, medical and veterinary entomologists concerned with pest management.
Table of contents
1: Genes and Mechanisms
2: The Evolution of Insecticide Resistance in the Peach-Potato Aphid, Myzus persicae, A L Devonshire, IACR-Rothamsted, Harpenden, UK, et al.
3: Why are there so few Resistance-associated Mutations in Insecticide Target Genes? R H ffrench-Constant et al., University of Wisconsin-Madison, USA
4: The Role of Gene Splicing, Gene Amplification and Regulation in Mosquito Insecticide Resistance, J Hemingway, University of Wales Cardiff, UK, et al.
5: Cytochrome P450 Monooxygenases and Insecticide Resistance in Insects, J-B Bergé, INRA, Antibes Cedex, France, et al.
6: An Overview of the Evolution of Overproduced Esterases in the Mosquito Culex pipiens, M Raymond et al., Université de Montpellier II, France
7: A Genomic Approach to Understanding Heliothis and Helicoverpa Resistance to Chemical and Biological Insecticides, D G Heckel, Clemson University, USA, et al.
8: The Influence of the Molecular Basis of Resistance on Insecticide Discovery, M D Broadhurst, Western Research Centre, Richmond, USA
9: Ecological Genetics and Management
10: Predicting Insecticide Resistance: Mutagenesis, Selection and Response, J A McKenzie and P Batterham, University of Melbourne, Australia
11: Resistance to Insecticides in Heliothine Lepidoptera: a Global View, A R McCaffery, The University of Reading, UK
12: Insect Resistance to Bacillus thuringiensis: Uniform or Diverse? B E Tabashnik, University of Arizona, USA, et al.
13: Challenges with Managing Insecticide Resistance in Agricultural Pests, Exemplified by the Whitefly Bemisia tabaci, I Denholm et al.
14: Can Anything be done to Maintain the Effectiveness of Pyrethroid-impregnated Bednets Against Malaria Vectors? C F Curtis et al., London School of Hygiene and Tropical Medicine, UK
15: Two-toxin Strategies for Management of Insecticidal Transgenic Crops: can Pyramiding Succeed Where Pesticide Mixtures Have Not? R T Roush, University of Adelaide, Australia
Reviews
Have you read this book, or used it for one of your courses? We would love to hear your feedback. Email our reviews team to submit a review.
Like most websites we use cookies. This is to ensure that we give you the best experience possible. Continuing to use www.cabi.org means you agree to our use of cookies. If you would like to, you can learn more about the cookies we use here.