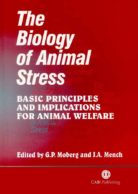 Biology of Animal Stress
Basic Principles and Implications for Animal Welfare
Edited by: Gary Moberg, Department of Animal Science, University of California, Davis, USA, Joy Mench, University of California, Davis, USA
June 2000 | Hardback | 384 Pages | 9780851993591
June 2000 | ePDF 9780851999302 |
£110.20 | €143.15 | $210.05
Description
The subjects of stress and animal welfare are currently attracting immense interest. This book brings together a range of perspectives from biomedical research (including human health and animal models of human stress) on stress and welfare, and assesses new approaches to conceptualising and alleviating stress.
Table of contents
1: Biological Response to Stress: Implications for Animal Welfare, G P Moberg, University of California, USA
2: Some Issues in the Interpretation of Behavioural Responses to Stress, J Rushen, Dairy and Swine Research and Development Centre, Agriculture and Agri-food Canada, Canada
3: Neoroendocrine Responses to Stress, R L Matteri, J A Carroll and C J Dyer, University of Missouri, USA
4: The Metabolic Consequences of Stress: Targets for Stress and Priority of Nutrient Use, T H Elsasser et al., USDA, Agricultural Research Service, USA
5: Immune System Response to Stress, F Blecha, Kansas State University, USA
6: Hands-on and Hands-off Measurement of Stress, C J Cook et al., Horticultural and Food Research Institute of New Zealand, New Zealand
7: Accumulation and Long-Term Effects of Stress in Fish, C B Schreck, Oregon State University, USA
8: Chronic Intermittent Stress: A Model for the Study of Long Term Stressors, J Ladewig, The Royal Veterinary and Agricultural University, Denmark
9: Quantifying Some Responses to Pain as a Stressor, D J Mellor, Massey University, New Zealand, C J Cook and K J Stafford, Horticultural and Food Research Institute of New Zealand, New Zealand
10: Multiple Factors Controlling Behaviour: Implications for Stress and Welfare, F Toates, The Open University, Milton Keynes, UK
11: Chronic Social Stress: Studies in Nonhuman Primates, S P Mendoza, J P Capitanio and W A Mason, University of California, USA
12: Consequences of Stress During Development, D C Lay Jr., Iowa State University, USA
13: Early Developmental Influences of Experience on Behaviour, Temperament, and Stress, W A Mason, University of California, USA
14: Genetic Selection to Reduce Stress in Animals, T G Pottinger, NERC Institute of Freshwater Ecology, Windermere Laboratory, Cumbria, UK
15: Human-Animal Interactions and Animal Stress, P H Hemsworth and J L Barnett, Agriculture Victoria, Australia
16: Alleviating Stress in Zoo Animals with Environmental Enrichment, K Carlstead, National Zoological Park, Washington, USA and D Shepherdson, Oregon Zoo, USA
17: Understanding the Role of Stress in Animal Welfare: Practical Considerations, T L Wolfle, formerly of the Institute for Laboratory Animal Research, National Research Council, National Academy of Sciences, USA
Reviews
Have you read this book, or used it for one of your courses? We would love to hear your feedback. Email our reviews team to submit a review.
(BA Biology, DPhil Ethology and Neurobiology) is a Professor of Animal Science and the Director of the Center for Animal Welfare at the University of California, Davis. She conducts research on the behaviour and welfare of poultry and small laboratory animals, with a particular emphasis on management and environmental enrichment. She serves on numerous national and international committees and boards that address issues related to farm and laboratory animal welfare, and teaches courses on animal welfare and animal ethics.
Like most websites we use cookies. This is to ensure that we give you the best experience possible. Continuing to use
CABI.org
means you agree to our use of cookies. If you would like to, you can learn more about the cookies we use
here
.
Privacy Overview
This website uses cookies to improve your experience while you navigate through the website. Out of these, the cookies that are categorized as necessary are stored on your browser as they are essential for the working of basic functionalities of the website. We also use third-party cookies that help us analyze and understand how you use this website. These cookies will be stored in your browser only with your consent. You also have the option to opt-out of these cookies. But opting out of some of these cookies may affect your browsing experience.