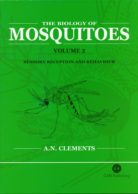 Biology of Mosquitoes, Volume 2
Sensory Reception and Behaviour
By: Alan Clements, Formerly Emeritus Professor of Medical Entomology, London School of Hygiene & Tropical Medicine, UK
June 1999 | Hardback | 752 Pages | 9780851993133
May 2021 | ePDF 9781800620384 | ePub 9781800620391
£160.15 | €210.05 | $303.35
Description
Mosquitoes are important as transmitters of widespread major diseases and as nuisance insects. They are also one of the most studied and well-known group of insects, both in the laboratory and in the field. The first volume in The Biology of Mosquitoes series is a key reference work and has received excellent reviews. This second title in the three volume series focuses on the functioning of the mosquito sense organs that provide them with information about the environment and that enable the adult females to find and attack their vertebrate hosts. It also reviews knowledge of the circadian rhythms and other internal mechanisms that regulate the onset and timing of different behaviours. This integrated review of the sensory mechanisms and behaviour of mosquitoes provides a unique insight into their biology. The contents, which are fully up-to-date, include much important work from the past which is often overlooked.
Table of contents
-: (Chapter numbers continued from Volume 1)
Introduction: Cycles, rhythms, and other periodicities in mosquito behaviour
24: Larval integumental sensilla
25: Adult integumental sensilla: Their structure, physiology and connections with the brain
26: The antennae and hearing
27: Larval eyes and vision
28: Adult eyes and vision
29: Behaviour and aspects of the biology of larvae and pupae
30: Adult circadian rhythms
31: The regulation of adult behaviour
32: The modification of adult behaviour by geophysical and climatic factors
33: Flight
34: Genitalia and associated organs
35: Mating
36: Feeding on plant sugars
37: The sources and characteristics of host cues
38: Host finding
39: Mosquito–host interactions
40: Egg laying
Reviews
Reviews of Volume 1: "... surpassingly accurate and eminently readable..... deserves a prominent place on the reading lists of introductory as well as advanced courses dealing with vector biology." Medical and Veterinary Entomology "... there can be few mosquito biologists who would not learn much by reading this book..... Professor Clements is to be congratulated on his achievement in making such a vast body of knowledge so readily available." Bulletin of Entomological Research
Like most websites we use cookies. This is to ensure that we give you the best experience possible. Continuing to use
CABI.org
means you agree to our use of cookies. If you would like to, you can learn more about the cookies we use
here
.
Privacy Overview
This website uses cookies to improve your experience while you navigate through the website. Out of these, the cookies that are categorized as necessary are stored on your browser as they are essential for the working of basic functionalities of the website. We also use third-party cookies that help us analyze and understand how you use this website. These cookies will be stored in your browser only with your consent. You also have the option to opt-out of these cookies. But opting out of some of these cookies may affect your browsing experience.