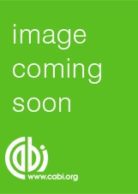 Distribution Maps of Quarantine Pests for Europe
Edited by: I Smith, European and Mediterranean Plant Protection Organization (EPPO), L Charles, ADAS, Nottingham, UK
December 1998 | Hardback | 768 Pages | 9780851992921
£231.25 | €303.35 | $441.35
Description
This book is an essential companion volume to Quarantine Pests for Europe, 2nd Edition and Illustrations of Quarantine Pests for Europe. The three titles are the result of collaboration between CABI and EPPO in the compilation of data on the pests of phytosanitary significance for the European and Mediterranean region. This present publication provides updated geographic distributions of over 350 pests for which data sheets and illustrations are already available. A map is provided for each pest showing the current world distribution graphically. This is supported by a list of the countries and provinces in which the pest has been recorded with a coded indication of its current status. Coverage extends to insects, mites, nematodes, fungi, bacteria, viruses and parasitic plants. The pests concerned are either entirely absent from the European and Mediterranean region (A1 list) or have a restricted distribution (A2 list). Text within the book is provided in both English and French.
Table of contents
1: Introduction
2: Note on Distribution Codes
3: Insects and Mites
4: Nematodes
5: Fungi
6: Bacteria
7: Viruses, Virus-like Organisms and Viroids
8: Parasitic Plants
Reviews
Have you read this book, or used it for one of your courses? We would love to hear your feedback. Email our reviews team to submit a review.
Like most websites we use cookies. This is to ensure that we give you the best experience possible. Continuing to use
CABI.org
means you agree to our use of cookies. If you would like to, you can learn more about the cookies we use
here
.
Privacy Overview
This website uses cookies to improve your experience while you navigate through the website. Out of these, the cookies that are categorized as necessary are stored on your browser as they are essential for the working of basic functionalities of the website. We also use third-party cookies that help us analyze and understand how you use this website. These cookies will be stored in your browser only with your consent. You also have the option to opt-out of these cookies. But opting out of some of these cookies may affect your browsing experience.