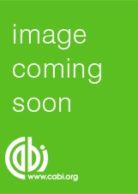 Genetic and Environmental Manipulation of Horticultural Crops
Edited by: Ken Cockshull, D Gray, Brian Thomas, University of Warwick, UK
April 1997 | Hardback | 240 Pages | 9780851992815
£110.20 | €137.95 | $210.05
Description
Genetics has transformed plant pathology on two occasions: first when Mendelian genetics enabled the discovery that disease resistance was a heritable trait in plants, and secondly when Flor proposed the "gene-for-gene" hypothesis to explain his observations of plant-parasite interactions, based on his work on flax rust in North Dakota starting in the 1930s. Our knowledge of the genetics of disease resistance and host-pathogen coevolution is now entering a new phase as a result of the cloning of the first resistance genes. This book provides a broad review of recent developments in this important and expanding subject. Both agricultural and natural host-pathogen situations are addressed. While most of the book focuses on plant pathology, in the usual sense of the term embracing fungal, bacterial and viral pathogens, there is also consideration of parasitic plants and a chapter demonstrating lessons to be learnt from the mammalian immune system. Three overall themes are addressed: genetic analyses and utilization of resistance; population genetics; and cell biology and molecular genetics. Chapters are based on papers presented at the British Society for Plant Pathology Presidential meeting held in December 1995, but all have been revised and updated to mid-1996. Written by leading authorities from North America, Europe and Australia, the book represents an essential update for workers in plant genetics, breeding, biotechnology and pathology.
Table of contents
1: Genetic Approaches to Manipulation of Fruit Development and Quality in Tomato, J J Giovannoni et al., Texas A & M University, USA
2: Improving Tomato Fruit Quality by Cultivation, L C Ho, Horticulture Research International, UK
3: Applications of Molecular Biology and Genetic Manipulation to Understand and Improve Quality of Fruits and Vegetables, D Grierson, University of Nottingham, UK
4: Gene Expression in Ripening Bananas, R Drury, Horticulture Research International, UK, C R Bird, Zeneca Plant Science, UK and G B Seymour, Horticulture Research International, UK
5: Genes for Fruit Quality in Strawberry, K Manning, Horticulture Research International, UK
6: The Tomato Ethylene Receptor Gene Family: It's Not Easy Being a Plant, D Tieman and H Klee, University of Florida, USA
7: Environmental Requirements as Determined by Rooting Potential in Leafy Cuttings,
8: R S Harrison-Murray and B H Howard, Horticulture Research International, UK
9: The Use of Mutants and Molecular Biology to Understand Competence for Root Formation, W P Hackett et al., University of Minnesota, USA
10: Physiological Analysis of the Floral Transition, G Bernier et al., Universite de Liege, Belgium
11: Genetic and Environmental Control of Flowering in Strawberry, N H Battey et al., University of Reading, UK
12: Manipulating the Photoperiodic Control of Plant Reproduction, S D Jackson and B Thomas, Horticulture Research International, UK
13: Regulation of Abscisic Acid and Water Stress Response Genes, P K Busk et al., CID, Barcelona, Spain
14: Manipulation of Growth of Horticultural Crops under Environmental Stress, W J Davies and D S Thompson, Lancaster University, UK and J E Taylor, University of Reading, UK
15: Engineering Phytochrome Genes to Improve Crop Performance, H Smith, University of Leicester, UK
16: Regulation of Stem Extension by Temperature, F Allen Langton, Horticulture Research International, UK
17: Modification of Plant Morphology by Genetic Manipulation of Gibberellin Biosynthesis, P Hedden et al., University of Bristol, UK
Reviews
Have you read this book, or used it for one of your courses? We would love to hear your feedback. Email our reviews team to submit a review.
Like most websites we use cookies. This is to ensure that we give you the best experience possible. Continuing to use
CABI.org
means you agree to our use of cookies. If you would like to, you can learn more about the cookies we use
here
.
Privacy Overview
This website uses cookies to improve your experience while you navigate through the website. Out of these, the cookies that are categorized as necessary are stored on your browser as they are essential for the working of basic functionalities of the website. We also use third-party cookies that help us analyze and understand how you use this website. These cookies will be stored in your browser only with your consent. You also have the option to opt-out of these cookies. But opting out of some of these cookies may affect your browsing experience.