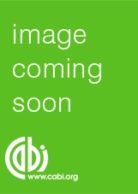 Molecular Variability of Fungal Pathogens
Edited by: Paul Bridge, retired from CABI, UK, Yvonne Couteaudier, INRA, France, and J M Clarkson, University of Bath, UK, John Clarkson, Atlas Genetics Ltd, Oak House, Epsom Road, White Horse Business Park, Trowbridge, Wiltshire, BA14 0XG, GB United Kingdom
August 1998 | Hardback | 336 Pages | 9780851992662
£127.20 | €160.15 | $243.05
Description
This volume contains a series of contributions from established European researchers which consider aspects of molecular variability in fungal pathogens. Chapters are derived from a workshop held in Evian, France, in September 1997, supported by the EU Concerted Action Air 3-CT94-2448. The volume is divided into three sections. The first includes contributions which consider and review the major mechanisms involved, the second details specific studies on variability in populations of different fungal pathogens, and the third includes contributions on methods for interpreting such variability. The workshop was intended to bring together methods and understanding from a wide range of fungal pathogens, and this is reflected in the volume where individual contributions include case studies and reviews of populations of fungi pathogenic on insects and nematodes as well as plant and human pathogens. The combination of mechanisms, characterisation and interpretation across a wide range of applied mycology makes this a significant general text for those working on molecular characterisation. The broad spectrum of topics provides a multidisciplinary reference source within mycology and the book will be suitable for postgraduate students and research scientists in applied mycology, including plant pathology, medical mycology and biological control.
Table of contents
1: Contributors
2: Foreword, Ulrich Kück
3: Molecular Variability of Fungal Pathogens: Using the Rice Blast Fungus as a Case Study, N J Talbot
4: Molecular Variability in Sexually Reproducing Fungal Plant Pathogens, J M Duncan, D Cooke, P Birch and R Toth
5: Parasexuality in Fungi: Mechanisms and Significance in Wild Populations, A J M Debets
6: Molecular Variability of Viruses of Fungi, K W Buck
7: Activator-like Transposons in Beauveria Species, U Kück, S Jacobsen and F Kempken
8: Fungal Pathogenesis in Insects, J Clarkson, S Screen, A Bailey, B Cobb and K Charnley
9: Combination of Different Independent Molecular Markers to Understand the Genetic Structure of Beauveria Populations, Y Couteaudier, M Viaud and C Neuvéglise
10: Assessing Diversity in Colletotrichum and Trichodera Species Using Molecular Markers, P R Mills, S Sreenivasaprasad and S Muthumeenakshi
11: Variability in the Human Opportunistic Fungal Pathogen Aspergillus fumigatus, J P Latgé, J P Debeaupuis, J Sarfati and S Paris
12: Reproduction and Population Structure in Phytopathogenic Fungi, Y Brygoo, V Caffier, J Carlier, Jean-Vincent Fabre, D Fernandez, T Giraud, X Mourichon, C Neema, Jean-Loup Notteghem, C Pope, D Tharreau and Marc-Henri Lebrun
13: Variation in the Subtilisins of Fungal Pathogens of Insects and Nematodes, T M Butt, R Segers, S C Leal and B R Kerry
14: Metabolites Influencing Pathogenicity of Nematophagous Fungi, L V Lopez-Llorca and C Olivares-Bernabeu
15: Sources of Molecular Variability and Applications in Characterization of the Plant Pathogen Fusarium oxysporum, S L Woo and M Lorito
16: Variability of Human Pathogenic Fungi, D Sullivan and D Coleman
17: Mitochondrial DNA Differences Provide Maximum Intraspecific Polymorphism in the Entomopathogenic Fungi Verticillium lecanii and Metarhizium anisopliae and Allow Isolate Detection/Identification, M A Typas, A Mavridou and V Kouvelis
18: RAPD-PCR for the Molecular Characterization of Beauveria brongniartii Isolates Useful as Biocontrol Agents of the European Cockchafer Melolontha melolontha, O I Ozino, P Piatti and F Cravanzola
19: Molecular Evolution and Phylogenetic Implications of ITS Sequence in Plants and in Fungi, J Mugnier
20: Neural Network Approaches to Interpreting Variability, L Boddy, C W Morris, A Morgan and L Al-Haddad
21: Numerical Analysis of Molecular Variability: A Comparison of Hierarchic and Non-hierarchic Methods, P Bridge
22: Index
Reviews
Have you read this book, or used it for one of your courses? We would love to hear your feedback. Email our reviews team to submit a review.
Paul Dennis Bridge was previously Director of Bioservices at CABI, Head of Evolutionary Biology Group at British Antarctic Survey, and Kew Chair of Mycology at Birkbeck. He has 30 years history in practical microbial systematics in agricultural and environmental programmes. Author of over 150 scientific papers, chapters and reviews and co-editor for 10 books.
Like most websites we use cookies. This is to ensure that we give you the best experience possible. Continuing to use
CABI.org
means you agree to our use of cookies. If you would like to, you can learn more about the cookies we use
here
.
Privacy Overview
This website uses cookies to improve your experience while you navigate through the website. Out of these, the cookies that are categorized as necessary are stored on your browser as they are essential for the working of basic functionalities of the website. We also use third-party cookies that help us analyze and understand how you use this website. These cookies will be stored in your browser only with your consent. You also have the option to opt-out of these cookies. But opting out of some of these cookies may affect your browsing experience.