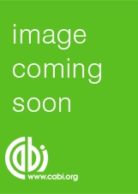 Sexually Transmitted Infections and AIDS in the Tropics
Edited by: Om Arya, Department of Medical Microbiology and Genitourinary Medicine, University of Liverpool, UK, Charles Hart, Department of Medical Microbiology and Genitourinary Medicine, University of Liverpool, UK
October 1998 | Hardback | 448 Pages | 9780851992624
£127.20 | €160.15 | $243.05
Description
Sexually Transmitted Infections (STI) are a major public health problem both in their own right and because of their link with HIV infection. This has elevated their control to an absolute priority throughout the world. In developing countries, which account for approximately 75% of the easily curable STI, as estimated by the WHO, and where sexually transmitted HIV infection has reached epidemic proportions, the need is most acute. Here AIDS is claiming hundreds of thousands of lives and will continue to do so for the foreseeable future. In addition, because of inadequate resources, the sequelae of STI (e.g. infertility and some cancers) contribute greatly to ill-health in the tropics. This book written by acknowledged experts working or with experience in tropical countries, gives clear, concise and up to date knowledge and understanding on all aspects of Sexually Transmitted Infections. It should be useful for all those involved in the appropriate management and control of STI in various settings, ranging from peripheral and rural and urban health care centres to large hospitals. It will also be invaluable for students of tropical medicine, medical microbiology and genito-urinary medicine.
Table of contents
Part 1: Epidemiology and Basic Considerations
1: Epidemiology of Sexually Transmitted Infections and AIDS in Developing Countries, K Keersmaekers and A Meheus
2: Anatomy of the Genitalia and Other Organs, O P Arya
3: Immunity and the Genital Tract, C A Hart
4: History Taking, Examination of Patient, Collection of Specimens, and Common Presenting Symptoms, O P Arya
5: Laboratory Aspects, C A Hart
2: Infections and Microorganisms
6: Viral Infections
7: Bacterial Infections
8: Fungal Infections
9: Protozoal and Arthropod Infections
3: Problem-oriented Approach, Special Topics and Control Aspects
10: Problem-oriented Approach
11: Special Topics
12: Control Aspects
Reviews
"The structure of the book is excellent. ... an indispensable addition to a departmental library, a necessary book for HIV clinicians and a useful reference book for those who teach in this field." Microbiology Today
Like most websites we use cookies. This is to ensure that we give you the best experience possible. Continuing to use
CABI.org
means you agree to our use of cookies. If you would like to, you can learn more about the cookies we use
here
.
Privacy Overview
This website uses cookies to improve your experience while you navigate through the website. Out of these, the cookies that are categorized as necessary are stored on your browser as they are essential for the working of basic functionalities of the website. We also use third-party cookies that help us analyze and understand how you use this website. These cookies will be stored in your browser only with your consent. You also have the option to opt-out of these cookies. But opting out of some of these cookies may affect your browsing experience.