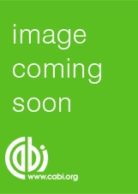 Forage Seed Production, Volume 1
Temperate Species
Edited by: Daphne Fairey, Agriculture and Agri-Food Canada, Alberta, Canada, John Hampton, Seed Technology Centre, Department of Plant Sciences, Massey University, Palmerston North, New Zealand
December 1997 | Hardback | 432 Pages | 9780851991900
£132.85 | €176.10 | $253.40
Description
The grasses and legumes grown in pastures and rangelands form the basis of the worldwide animal production industry. Some species also have a significant role in the sport and leisure industry, for playing surfaces such as golf courses and football fields. It is therefore vitally important to ensure that seed supplies of appropriate species are available for use on a commercial scale. This book is published in association with the International Herbage Seed Production Research Group. It brings together leading researchers and along with its companion volume Forage Seed Production Volume 2: Tropical and Subtropical Species (to be published in late 1998), provides the definitive resource for all those concerned with breeding and profitable seed production for grasses and legumes used within grazing systems or recreation and amenity provision. The book is in two parts. Part 1 covers all aspects relevant to seed production, including improving seed yield and quality, crop management, harvesting, processing and the international seed trade. Part 2 consists of eleven case studies from eight countries covering three continents. This book and its companion should be read by all seed scientists involved in the breeding and commercial production of grass and legume seed. They also represent a valuable asset for all commercial seed suppliers. Additionally, the information presented within the book is important for all students and lecturers within departments of agriculture and plant breeding.
Table of contents
1: General introduction, D T Fairey and J G Hampton
2: Establishing potential seed yield in grasses and legumes, T S Aamlid, O M Heide, B R Christie and R L McGraw
3: Components of yield in grasses and legumes, J G Hampton and D T Fairey
4: Maturation of grass and legume seed, P Coolbear, M J Hill, and W Pe
5: Grass seed crop management, M P Rolston, J S Rowarth, W C Young III, and G W Mueller-Warrant
6: Legume seed crop management, A H Marshall, J J Steiner, O Niemelainen, and J Hacquet
7: Pollination and fertilization in grasses and legumes, D T Fairey, P T P Clifford, and S M Griffith
8: Harvesting and processing grass and legume seed, U Simon, P T P Clifford, M Hare, and B Kjaersgaard
9: Seed quality of grasses and legumes, M J Hill, J G Hampton, and K A Hill
10: Breeding for higher seed yields in grasses and forage legumes, A Elgersma and A J P van Wijk
11: The Forage Seed Trade, A Burgon, O B Bondesen, W H Verburgt, A G Hall, N S Bark, M Robinson, and G Timm
12: Case Histories:
12.1: Festuca arundinacea Schreb. (tall fescue) in the USA: a case history, W C Young III
12.2: Festuca rubra L. (creeping red fescue) in Canada: a case history, N A Fairey
12.3: Lolium multiflorum Lam. (italian ryegrass) in Germany: a case history, W Schoberlein and E L Entrup
12.4: Lolium perenne L. (perennial ryegrass) in Denmark: a case history, Kh Svensson and B Boelt
12.5: Poa pratensis L. (kentucky bluegrass/smooth stalked meadow grass) in The Netherlands: a case history, D Donner and G Borm
12.6: Dactylis glomerata L. (cocksfoot/orchardgrass) in New Zealand: a case history, M J Hill
12.7: Lotus corniculatus L. (birdsfoot trefoil) in North America: a case history, P R Beuselinck
12.8: Medicago spp. (lucerne/alfalfa) in Canada: a case history, D T Fairey and N A Fairey
12.9: Trifolium pratense L. (red clover) in France: a case history, S Bouet and G Sicard
12.10: Trifolium repens L. (white clover) in New Zealand: a case history, P T P Clifford
12.11: Trifolium subterraneum L. (subterranean clover) in Australia: a case history, K G Boyce
Reviews
Have you read this book, or used it for one of your courses? We would love to hear your feedback. Email our reviews team to submit a review.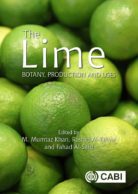 The Lime
Edited by: M Mumtaz Khan, Rashid Al-Yahyai, Fahad Al-Said
From
£100.45 | €132.15 | $169.15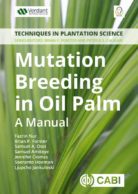 Mutation Breeding in Oil Palm
By: Fazrin Nur, Brian Forster, Samual A. Osei, Samuel Amiteye, Jennifer Ciomas, Soeranto Hoeman, Ljupcho Jankuloski
From
£20.50 | €25.65 | $30.75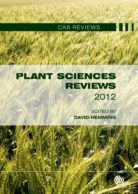 Plant Sciences Reviews 2012
Edited by: David Hemming
From
£112.99 | €146.75 | $215.30
Like most websites we use cookies. This is to ensure that we give you the best experience possible. Continuing to use
CABI.org
means you agree to our use of cookies. If you would like to, you can learn more about the cookies we use
here
.
Privacy Overview
This website uses cookies to improve your experience while you navigate through the website. Out of these, the cookies that are categorized as necessary are stored on your browser as they are essential for the working of basic functionalities of the website. We also use third-party cookies that help us analyze and understand how you use this website. These cookies will be stored in your browser only with your consent. You also have the option to opt-out of these cookies. But opting out of some of these cookies may affect your browsing experience.