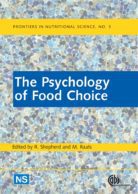 The Psychology of Food Choice
Edited by: Richard Shepherd, University of Surrey, UK, Monique Raats, University of Surrey, UK
August 2006 | Hardback | 384 Pages | 9780851990323
February 2010 | Paperback | 416 Pages | 9781845937232
August 2006 | ePDF 9781845930868 |
$210.05 | £110.20 | €143.15
Description
One of the central problems in nutrition is the difficulty of getting people to change their dietary behaviours so as to bring about an improvement in health. What is required is a clearer understanding of the motivations of consumers, barriers to changing diets and how we might have an impact upon dietary behaviour. This book brings together theory, research and applications from psychology and behavioural sciences applied to dietary behaviour. The authors are all international leaders in their respective fields and together give an overview of the current understanding of consumer food choice.
Table of contents
Part I: Models of food choice
1: A Conceptual Model of the Food Choice Process over the Life Course, J Sobal, C A Bisogni, C M Devine and M Jastran, Cornell University, USA
2: The Integration of Biological, Social, Cultural, and Psychological Influences on Food Choice, P Rozin, University of Pennsylvania, USA
3: Social Psychological Models of Food Choice, M Conner, University of Leeds, UK and C J Armitage, University of Sheffield, UK
Part II: Biological and learning influences on food choice
4: Biological Influences on Energy Intake, K Westerterp, Maastricht University, The Netherlands
5: Food Neophobia in Humans, P Pliner and S-J Salvy, University of Toronto at Mississauga, Canada
6: The Role of Learning in Development of Food Preference, M R Yeomans, University of Sussex, UK
7: Mood, emotions and food choice, E L Gibson, Roehampton University, UK
8: Food Cravings and Addictions, S Higgs, University of Birmingham, UK
Part III: Societal influences on food choice
9: Marketing Parameters and their Influence on Consumer Food Choice, K G Grunert, Aarhus School of Business, Denmark
10: The Role of Context in Food Choice, Food Acceptance and Food Consumption, H L Meiselman, Natick Soldier Center, USA
11: The Impact of the Media on Food Choice, J Reilly, University of Glasgow, UK
12: The Impact of Advertising on Food Choice: the Social Context of Advertising, M Caraher, City University, UK and J Landon, National Heart Forum, UK
Part IV: Food choices across the lifespan
13: Adolescents, Food Choice and Vegetarianism, K Trew, C Clark, G McCartney, Queens University Belfast, Ireland, J Barnett, University of Surrey, UK and O Muldoon, Queens University Belfast, Ireland
14: Intra-family Influences on Food Choice at Mid-life , J L Brown, Pennsylvania State University, USA
15: Food Choices in Later Life, M Lumbers and M Raats, University of Surrey, UK
Part V: Changing dietary behaviour
16: The Impact of Optimistic Bias on Dietary Behaviour, V Scaife, S Miles, University of East Anglia, UK and P Harris, University of Sheffield, UK
17: Implementation Intentions: Strategic Automatisation of Food Choice, T L Webb, P Sheeran and C J Armitage, University of Sheffield, UK
18: The Use of the Stages of Change Model with Dietary Behaviours, R Shepherd,
19: What is a Healthy Diet Community? D Bowen, Fred Hutchinson Cancer Research Center, USA and T Hilliard
20: Eating Behaviour in Obesity, J Wardle, University College London, UK
Reviews
Have you read this book, or used it for one of your courses? We would love to hear your feedback. Email our reviews team to submit a review.
Like most websites we use cookies. This is to ensure that we give you the best experience possible. Continuing to use www.cabi.org means you agree to our use of cookies. If you would like to, you can learn more about the cookies we use here.