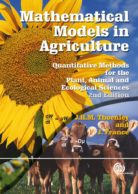 Mathematical Models in Agriculture
Quantitative Methods for the Plant, Animal and Ecological Sciences
2nd Edition
Edited by: James France, Formerly University of Guelph, CanadaBy: John Thornley, Centre for Ecology and Hydrology, Edinburgh, UK

December 2006 | Hardback | 928 Pages | 9780851990101
December 2006 | ePDF 9781845932404 |
£220.65 | €282.90 | $418.60
Description
Bringing together the disciplines of agriculture, animal science, plant science and ecology, this book explores how mathematics can be used to understand and explain agricultural processes. It starts by providing a review of the mathematical models currently available to agriculturalists, and the philosophy behind, and objectives of, modeling. The book then applies these techniques to real-life problems faced by people managing crops and animals, including the influence of digestion on animal growth rates and levels of photosynthesis on crop yield.
Table of contents
1: Role of mathematical models
2: Mathematical programming
3: Growth functions
4: Simple ecological models
5: Environment and weather
6: Crop models
7: Crop husbandry
8: Plant diseases and pests
9: Animal organs
10: Whole-animal models
11: Animal products
12: Animal husbandry
13: Animal diseases
Reviews
Have you read this book, or used it for one of your courses? We would love to hear your feedback. Email our reviews team to submit a review.
Like most websites we use cookies. This is to ensure that we give you the best experience possible. Continuing to use
CABI.org
means you agree to our use of cookies. If you would like to, you can learn more about the cookies we use
here
.
Privacy Overview
This website uses cookies to improve your experience while you navigate through the website. Out of these, the cookies that are categorized as necessary are stored on your browser as they are essential for the working of basic functionalities of the website. We also use third-party cookies that help us analyze and understand how you use this website. These cookies will be stored in your browser only with your consent. You also have the option to opt-out of these cookies. But opting out of some of these cookies may affect your browsing experience.