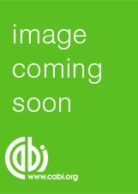 Parasitology for the 21st Century
Edited by: M Ziya Alkan, ICOPA Secretariat, Izmir, Turkey, M Ali Özcel, ICOPA Secretariat, Izmir, Turkey
December 1995 | Hardback | 304 Pages | 9780851989778
£121.00 | €155.00 | $231.25
Description
This volume provides a reflective summary of research in parasitology in the late 20th Century combined with a vision of the major challenges and potential successes in the 21st Century. It has been compiled from selected papers presented at the Eighth International Congress of Parasitology. A wide variety of topics are covered including medical, veterinary, and plant parasitology, by contributors from many different countries. Chapters within the book consider current research on the biology of parasites, and new strategies in the transmission and control of parasitic diseases. This book represents an invaluable resource for all parasitologists; not only is it an up-to-date summary of research, but it is also a thought provoking look at the future.
Table of contents
1: New Dimension for parasitology in the 21st century, T Godal
2: Training in parasitology, R Houin
3: Immunity to Human Leishmaniasis, E M Carvalho
4: Epidemiology of visceral leishmaniasis and its control, R C Mahjajan and K Mohan
5: Vaccination against visceral leishmaniasis using a pure parasite protein, C L Jaffe, N Rachamim and R Sarfstein
6: Visceral Leishmaniasis (VL) in Iran and the role of scatological tests in the diagnosis and epidemiological studies, Gh H Edrissian
7: Differential cause of T-cell non-responsiveness to Plasmodium falciparum antigens in healthy individuals and in acutely II malaria patients, L Hviid
8: Iron, oxidant stress and malaria, J Golenser
9: Immunogenicity of multiple peptides (MAPs) containing T- and B-cell epitopes of plamodium falciparum CS proteins, E H Nardin et al.
10: Cell biology of the Giardia lamblia life cycle, F D Gilin et al.
11: Metabolic disturbances in children with chronic Giardiasis, N N Taneli
12: Amoebae in relationship with bacteria in their environment, C Harf
13: Molecular and cellular biology of invasion by Entamoeba histolytica, S R Reed etal.
14: Multidrug resistance gene family in Entamoeba histolytica, P Ayala et al.
15: Cytoskelton activities in pathogenic entamoebal histolytica, N Guillen et al.
16: Infection sources, reservoir and transmission of Pneumocystosis, E Dei-Cas etal.
17: Schistosomiasis and foodborne trematode infections: diseases of social dimensions, K E Mott
18: Genetic variability in parasitic helminths, D P McManus
19: Allergic reactivity and helminthic infection, N R Lynch
20: Protective immune mechanisms against Echinococcus multilocularis, B Gottstein
21: Host-Metacesteode Interplay: the Role of Macrophages, J B Dixon
22: Epidmiology and epidemiologic research methods - their application in parasitic disease investigation, K C Shekhar
23: Importance of abdominal Angiostrongylosis in the Americas, P Morera
24: PCR-based detection and typing of parasites, G L McLaughlin et al."
Reviews
Have you read this book, or used it for one of your courses? We would love to hear your feedback. Email our reviews team to submit a review.
Like most websites we use cookies. This is to ensure that we give you the best experience possible. Continuing to use
CABI.org
means you agree to our use of cookies. If you would like to, you can learn more about the cookies we use
here
.
Privacy Overview
This website uses cookies to improve your experience while you navigate through the website. Out of these, the cookies that are categorized as necessary are stored on your browser as they are essential for the working of basic functionalities of the website. We also use third-party cookies that help us analyze and understand how you use this website. These cookies will be stored in your browser only with your consent. You also have the option to opt-out of these cookies. But opting out of some of these cookies may affect your browsing experience.