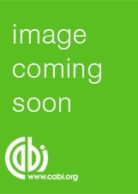 International Mycology Directory
3rd Edition
Edited by: Geoffrey Hall, International Mycological Institute, UK, Geoffrey Hall, International Mycological Institute, UKBy: D Minter, CABI, UK

January 1994 | Paperback | 160 Pages | 9780851989471
Description
Published on behalf of the International Mycological Association and the International Mycological Institute, this directory aims to address the problems of isolation and awareness that mycologists can experience by bringing together basic information on the various pertinent organizations already in existence, the services they provide, serial publications, living genetic resource collections, and biosystematic reference collections.
Table of contents
1: Introduction
2: Index of organizations by country
3: Catalogue of organizations included
4: Indexes
5: Mycological interests
6: Applied interests
7: Living collection holdings
8: Dried reference collection holdings
9: Organizations having databases
10: Organizations with mycological libraries
11: Organizations holding visual material
12: Organizations offering courses
13: Organizations offering awards or prizes
14: Organizations holding meetings
15: Organizations producing journals
16: Organizations producing periodicals
17: Organizations producing newsletters
18: Organizations producing other publications
19: Sources of further information
20: Directories (printed and electronic)
21: Networks
22: Local mycological societies
23: Living collections
24: Dried reference collections
25: Catalogues of fungus names
26: Literature
27: Other serial publications
28: Newsletters
29: Patents and patent depository authorities
30: Import / export and quarantine procedures
31: Health and safety
32: Postal requirements
33: International Mycological Association Statutes
Reviews
Have you read this book, or used it for one of your courses? We would love to hear your feedback. Email our reviews team to submit a review.
Like most websites we use cookies. This is to ensure that we give you the best experience possible. Continuing to use
CABI.org
means you agree to our use of cookies. If you would like to, you can learn more about the cookies we use
here
.
Privacy Overview
This website uses cookies to improve your experience while you navigate through the website. Out of these, the cookies that are categorized as necessary are stored on your browser as they are essential for the working of basic functionalities of the website. We also use third-party cookies that help us analyze and understand how you use this website. These cookies will be stored in your browser only with your consent. You also have the option to opt-out of these cookies. But opting out of some of these cookies may affect your browsing experience.