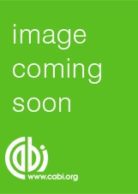 Preservation and Maintenance of Living Fungi
2nd Edition
By: D Smith, International Mycological Institute, UK, A Onions, International Mycological Institute, UK
August 1994 | Paperback | 132 Pages | 9780851989020
Series : IMI Technical Handbooks
Description
This second edition has been extended to include new information and developments in the preservation of fungi but maintains the coverage of methodology as presented in the first edition published in 1983. The book enables readers to select suitable preservation procedures for their purposes, gives information on the growth and maintenance of fungi and provides the background to manage a collection of microorganisms both safely and effectively. The methods described are those in operation or experimented upon at IMI, and cover the simple to the more complex techniques. The methods listed are of use in all situations where living cultures of fungi are required, from teaching and research to industry and technology.
Table of contents
1: Foreword
2: Microbial resource collections: aims, management and information
3: Collection management
4: Acquisition of strains
5: Accession
6: Preservation and storage
7: Culture properties
8: Distribution
9: Information
10: Continuous growth and adaptations for storage
11: Growth
12: Methods of culture maintenance
13: Sub-culturing
14: Storage under mineral oil
15: Water storage
16: Summary of maintenance by growth techniques
17: Drying and freeze-drying
18: Drying
19: Silica gel storage
20: Soil storage
21: Freeze-drying
22: Factors affecting survival in freeze-drying
23: Cryopreservation
24: Method
25: Optimization of preservation conditions
26: Selection of preservation techniques
27: Recommended methods of preservation for taxonomic groups
28: Selection of preservation technique based upon collection requirements
29: Comparison of methods available
30: Suitability of the techniques for fungi
31: Summary
32: Special techniques and procedures
33: Cleaning and mite prevention
34: Discarding cultures
35: Cryogenic light microscopy
36: Means of achieving reproducible cooling rates
Reviews
Have you read this book, or used it for one of your courses? We would love to hear your feedback. Email our reviews team to submit a review.